Computer Services, Inc.
This post is a slight departure from my usual habit of profiling a highly-obscure, minutely-sized and modestly-valued company residing on the bulletin board or pink sheets. While there are many such companies to be found, Computer Services, Inc. is not one. In fact, Computer Services is a strongly profitable and rapidly-growing company with one of the highest market capitalizations to be found off the major exchanges.
Computer Services, Inc. (Quote here) provides back office, transaction processing and internet banking software platforms to financial institutions, especially community banks. These software systems are under-appreciated but absolutely essential pieces of modern bank operations. Many banks, community banks in particular, lack the in-house expertise to develop and manage complex software, so outsourcing these functions to Computer Services, Inc. makes perfect sense. Effective and reliable web banking services are a critical part of any bank's value proposition for clients, a trend which will only strengthen.
Founded in Paducah, Kentucky in 1965, Computer Services has expanded from 45 clients and $1 million in revenue in 1971 to over 5,000 clients and $178 million in revenue in fiscal 2012. As if compounding revenues at an amazing 13.5% for 41 years were not enough, the company has raised dividends for 22 consecutive years.
A large portion of the company's growth has come from small, focused acquisitions made year after year. These smart acquisitions have helped increase revenues and profits without diluting shareholders; Computer Services, Inc.'s diluted shares outstanding have actually decreased by 11.9% over the last decade.
Here is a look at Computer Services' historical results:

Perhaps the company's most impressive data point is its massive improvement in margins over the past decade. Since 2002, the company has steadily improve operating and net margins by 39.2% and 52.1%, respectively. Clearly, the company has found itself enjoying economies of scale and has expanded into lucrative, higher margin lines of business. The company makes significant capital expenditures on software development and hardware to support growth, but total free cash flow has still exceeded total net income over the last decade.
Computer Services maintains a pristine balance sheet with nearly no debt, which assists greatly in providing flexibility for making strategic acquisitions.

While the company has had an outstanding history of growth and profitability, a lot of runway remains for takeoff. Computer Services' revenue was only 3.1% of what competitor Fidelity Information Services brought in in its most recent four quarters. The technological needs of local banks will only grow more complex with time, and Computer Services, Inc. looks to be there to meet those needs.
With such a track record of growth, high quality earnings and fiscal conservatism, my only wish is that it had all gone unnoticed by investors. Truth is, Computer Services' results have caught the eye of many and the company's shares trade at a healthy valuation.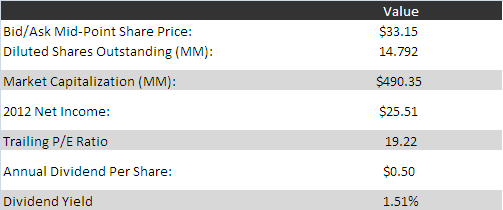 At a trailing P/E ratio of 19.22, Computer Services has a trailing earnings yield of 5.20%. Conservatively estimating future revenues and earnings growth of 5.00% (roughly two-thirds of five-year historical revenue growth of 7.42% annually) gives an estimated annual rate of return to investors of 10.20%. This assumes the company's valuation remains stable and that management avoids major mis-steps. I require a minimum rate of return of 12% for high quality, stable companies like Computer Services, so I would pass on the stock at the moment.
I will, however, keep the company on my watchlist and wait for an opportunity to buy in at a more attractive valuation. In late 2008, for example, the company traded all the way down to $11 per share, representing a P/E ratio of only 10.2 on TTM earnings known to investors at that point. Investors buying in at that point locked in a 9.80% current earnings yield and got all the growth essentially for free. When the market eventually turned and re-rated Computer Services back to a realistic valuation level, these investors realized a 200% return to date, plus dividends. It could happen again, and I plan to be there if it does.
No position, though I may add on a significant decline.